Lake Piru, CA Current Conditions

"United Water Conservation District strives to ensure the health and safety of all of its employees and visitors. Based on the current guidance from the CDC as well as the local and state Departments of Public Health, the District has been actively monitoring the impact of the novel coronavirus pandemic. Following guidance from the CDC, recommendations from local, state, and federal public health officials, and in accordance with the Governor's executive orders, the District has made the determination to temporarily close Lake Piru until further notice out of an abundance of caution. We don't take this decision without an exhaustive consideration of the impact to our employees, guests, and their families. As a result of this decision, all camping reservations made until we reopen for normal operations will be refunded in full. We apologize for any inconvenience this may create for you and your family members. If you have any questions or concerns, please contact our Chief Park Ranger Clayton Strahan at (805) 317-8990."
2020 Hours of Operation (Sunrise-Sunset Schedule)
Welcome to the Lake Piru Recreation Area!
As a popular recreation area for people from miles around, the lake is ideal for water sports, such as swimming, sailing, water skiing, and fishing. United's relaxing campgrounds offer water and electrical hook- ups for recreational vehicles at reasonable rates. Recreational users also appreciate the full- service marina and snack bar.
2019 Lake Piru Recreation Area Fee Schedule
Lake Piru Boating: Marina, Fees and Rules, Ramps, Rentals
United Water Conservation District (United) is interested in hearing about your recreation visit to Lake Piru. Your participation is important to us and will help us to provide quality recreation for everyone.
Lake Piru Recreational Area Visitor Survey
Directions to Lake Piru
For GPS, Input: 4780 Piru Canyon Rd, Piru, CA 93040
Water Surface Elevation Level at Lake Piru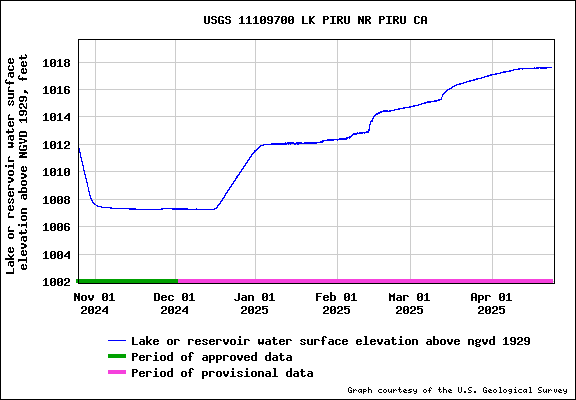 Register for the Lake Piru Splash Dash 5K Run - POSTPONED TO FALL 2020
Lake Piru Filming/Photography Requirements & Rates
Lake Piru Film Permit Application
Lake Piru Fishing Tournament Guidelines & Application
Lake Piru Personal Watercraft Usage, Rules & Regulations
Lake Piru Recreation Area Rules & Regulations (Adopted Revised and Amended Ordinance No. 15)
Lake Piru Ordinance No. 15 Bail Schedule
Lake Piru Special Event Guidelines & Permit Application
For more information on the recreational opportunities available at Lake Piru please click here. For more details please contact the Lake Piru Recreation Area at (805) 521-1500.
Preliminary Citation Review Request Form
Request for Administrative Hearing Form
Follow Us On Instagram