Lake Piru, CA Current Conditions
Due to the significant increase in corona virus cases over the past few weeks in Los Angeles and Ventura counties,United Water Conservation District is following local and state guidelines for restricting social interaction and is closing the Lake Piru Recreation Area for the foreseeable future. This includes camping, picnicking and all water recreation access.
We will provide the latest information here and on the Lake Piru Facebook page regarding reopening.
Welcome to Lake Piru Recreation Area!
What You Need to Know Before You Go
2020 Hours of Operation (Sunrise-Sunset Schedule) = Currently 7am to 7pm
2019 Lake Piru Recreation Area Fee Schedule
Lake Piru Boating: Marina, Fees and Rules, Ramps, Rentals
United Water Conservation District (United) is interested in hearing about your recreation visit to Lake Piru. Your participation is important to us and will help us to provide quality recreation for everyone.
Lake Piru Recreational Area Visitor Survey
Directions to Lake Piru
For GPS, Input: 4780 Piru Canyon Rd, Piru, CA 93040
Water Surface Elevation Level at Lake Piru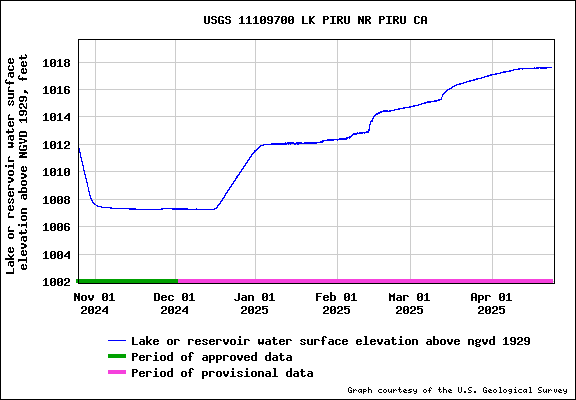 Register for the Lake Piru Splash Dash 5K Run - POSTPONED TO FALL 2020
Lake Piru Filming/Photography Requirements & Rates
Lake Piru Film Permit Application
Lake Piru Fishing Tournament Guidelines & Application
Lake Piru Personal Watercraft Usage, Rules & Regulations
Lake Piru Recreation Area Rules & Regulations (Adopted Revised and Amended Ordinance No. 15)
Lake Piru Ordinance No. 15 Bail Schedule
Lake Piru Special Event Guidelines & Permit Application
For more information on the recreational opportunities available at Lake Piru please click here. To reach PMC, click here; to make a camping reservation, click here. To speak to Lake Piru Recreation Area staff call (805) 521-1500.
Preliminary Citation Review Request Form
Request for Administrative Hearing Form
Follow Us On Instagram