Lake Piru, CA Current Conditions
Lake Piru Recreation Area will reopen beginning Monday, August 17, 2020!
Please review the Visitor Guidelines and complete the COVID-19 Survey before visiting the Lake Piru Recreation Area.
The Lake Piru day use picnic area will be open to family groups of 12 or less.
Tent, Trailer and RV Camping will require reservations made two weeks in advance.
Shore fishing and boating activities are permitting, however, no swimming in the lake is allowed.
Personal Water Crafts will only be allowed on the lake on weekdays (Monday through Friday).
For camping reservations, click here; to reach Parks Management Company (PMC), click here;
To speak to Lake Piru Recreation Area staff call (805) 521-1500
United Water Conservation District (United) is interested in hearing about your recreation visit to Lake Piru. Your participation is important to us and will help us to provide quality recreation for everyone.
Lake Piru Recreational Area Visitor Survey
Directions to Lake Piru
For GPS, Input: 4780 Piru Canyon Rd, Piru, CA 93040
Water Surface Elevation Level at Lake Piru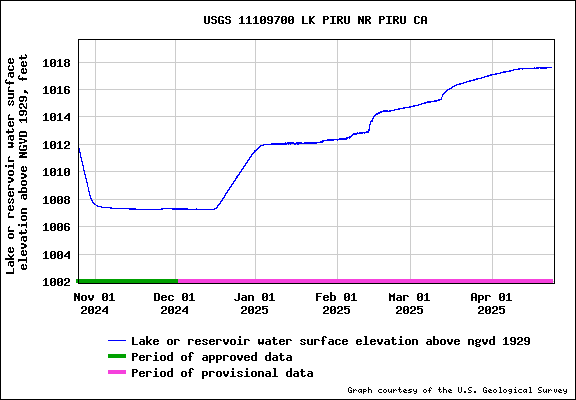 Register for the Lake Piru Splash Dash 5K Run - POSTPONED TO FALL 2020
Lake Piru Filming/Photography Requirements & Rates
Lake Piru Film Permit Application
Lake Piru Fishing Tournament Guidelines & Application
Lake Piru Personal Watercraft Usage, Rules & Regulations
Lake Piru Recreation Area Rules & Regulations (Adopted Revised and Amended Ordinance No. 15)
Lake Piru Ordinance No. 15 Bail Schedule
Lake Piru Special Event Guidelines & Permit Application
Preliminary Citation Review Request Form
Request for Administrative Hearing Form